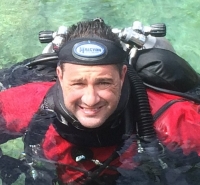 View Scheduled Classes
Classes I teach:
Discover Diving
Recreational Supervised Diver
Recreational Diver 1 - Nitrox
GUE Fundamentals
Doubles Diver
Drysuit Diver
DPV Diver 1
Professional
Corporate Counsel for KCI Technologies, Inc. (65th Largest Engineering Consultant in the USA) - Present
CE.O. & President - Keith and Schnars, P.A. - 2018, Top 5 FLA Engineering Firm
CEO Technical Diving Solutions - present - Exploration, Education, Film & Triathlon Coaching
Triathlon Coach - www.lifesportcoaching.com
CEO - EK Real Estate
Serve on Various Boards
Licenses: Building Contractor, Attorney, Real Estate Broker, USA Triathlon Coach
Education
1991 B.S. Construction Management, University of Florida
1994 J.D. Nova Southeastern University Law
Diving Qualifications
Current GUE, IANTD, SSI & TDI Instructor
Technical Diving/Trimix Instructor & Trainer for IANTD & TDI
Formerly GUE Technical Instructor through Rebreather
Formerly PADI Master Scuba Instructor, NAUI Instructor
SSI Pro 5000
Diving Experience
4000+ dives
2000+ trimix dives
1000+ dpv
700+ cave
Hundreds of hours on semi-closed rebreathers
Artic Circle, Scandavian Mines, Wrecks, Reef, Caves (fresh & blue hole)
Community Involvement
Special interests
Former World Ranked Ironman Triathlete
Ironman and USAT certified triathlon coach
Member - Explorer's Club
Film Projects: Have worked for IMAX, BBC, Discovery, National Geographic, VISA, etc.
Wrecks!
Long distance complex underwater ocean navigation
Publications
Authored or contributed to numerous magazine articles, training manuals, etc.
Additional Info

DPV Dealer