WHY TAKE THIS COURSE?
Being a GUE diver very often means being part of the team on a diving project. One of the responsibilities of good project team members is the ability to support logistics and have skills allowing them to prepare breathing mixes for their diving teams.

GUE's Gas Blender course is designed to introduce the essential skills required to prepare diving breathing mixtures with emphasis on preparation of GUE standard gases.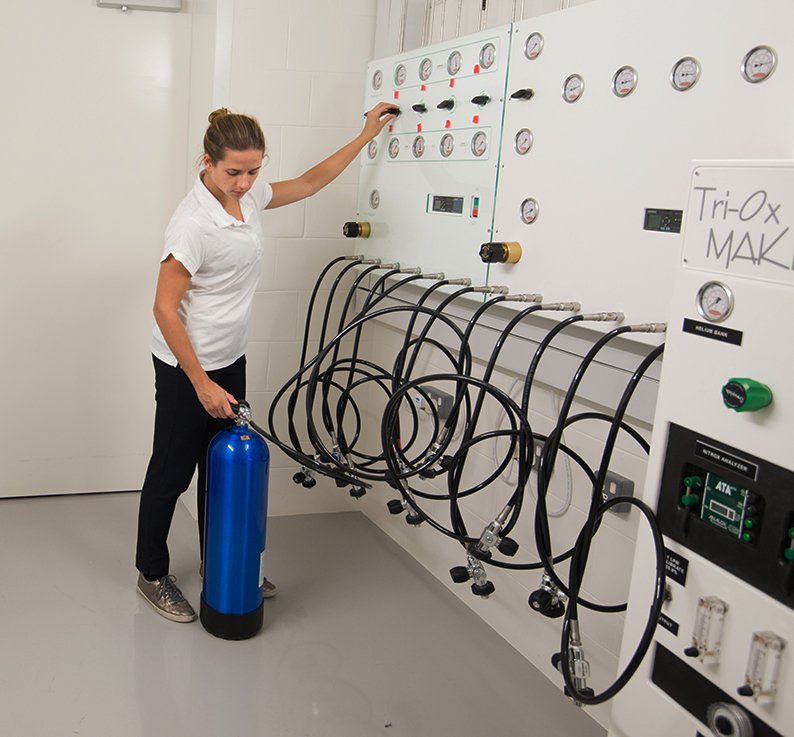 WHO IS IT FOR?
This course will benefit anyone interested in participating in dive projects, in diving expeditions, or offering support in dive centers/dive clubs, as well as for personal applications.
WHAT WILL I LEARN?
Course outcomes include, but are not limited to: the theory of gas blending as well as practical skills required for blending breathing gas mixtures. It covers GUE standard gases, risks associated with the use of oxygen, blending systems, and formulas and software for blending. Divers will practice blending with cascading systems, compressors, and gas boosters.
Training includes the theory of gas blending as well as practical skills required for blending breathing gas mixtures.
Applicants for a GUE Gas Blender course must:
Be a minimum of 18 years of age.
Be physically and mentally fit.
Be a non-smoker.
For a full list of course prerequisites, click here.
The Gas Blender course is normally conducted over one day. It requires at least eight hours of academics and practical skills session.
DOCUMENTATION DIVER
One of GUE's goals is to document the underwater environment and make the public aware of its beauty, variety, uniqueness, and the need to protect it.

Divers are natural ambassadors of the underwater world, and GUE's Documentation Diver course is designed to introduce divers to the basics of documentation techniques, project organization, and logistics that are useful in general project-based diving.
CCR

DIVER 1

GUE's Closed-Circuit Rebreather Diver Level 1

course is intended to provide the opportunity for divers to gradually transition from open circuit diving to closed-circuit diving.

The course is intended to challenge divers in a comfortable environment that emphasizes the need for learning management, maintenance procedures, and protocols of the closed-circuit rebreather. The course also emphasizes the need for increased physical and mental fitness.