Cave Diving in a Flooded Mine in Central Germany
Cave

Diving in a Flooded Mine in Central Germany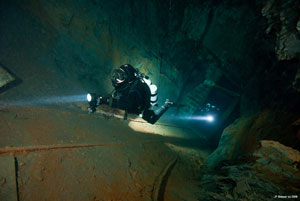 Crystal clear water with an average temperature of 8 degrees Celsius, great visibility, and the discovery of numerous mining relics, make for a thrilling cave dive in the world of former mineworkers.
Although I heard a lot of good stories about this spot one way or the other I never made it there, so it was about time. Arriving in the town of Willingen, I realized the place is actually a ski destination, quite noticeable by the hundreds of skiers flying down the mountains. Quite funny that within some hours, I will be flying underneath the mountains.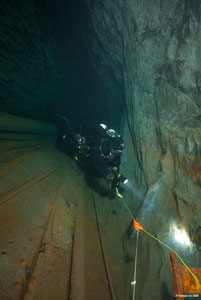 The entrance to the mine (named Christine) is located next to the Willingen firefighter's department and we start kitting up and dressing in the snow. For the first dive we decide to dive stages to add some time. When all is tested and the camera prepared we climb down a dark passageway leading us to the beginning of the mine -- a flooded, steep, silted tunnel leading in to the mine system.
Rusty old rails lead the way into the depths of this former slate mine. When diving into the interior of the mountain you can discover plenty: narrow passages, huge caverns, steep staircases. Everywhere in the tunnels, you will see traces of the former miners. The visibility gets better by the meter as we penetrate and the whole thing has the ambiance of diving a wreck within a cave, quite spectacular. Average depth is around 22 meters and the cold water is not bothering me much because I'm testing a new heated shirt which keeps me nice and toasty. Way to soon, our gas plan forces us back and I'm quite impressed when surfacing. I was able to shoot some photos which I hope give a good impression of the place.
More photos of the dive can be found at:
www.jpbresser.tv
A video from the mine can be viewed
here
.
JP Bresser