Aktun-Hu Exploration: December 2009, Mexico
By Beto Nava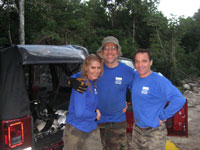 Susan Bird, Alex Alvarez, and Beto Nava, PET/GUE members, gathered in Q.Roo/Tulum for a week of video documentation at the Aktun-Hu Cave System. The team documented recently explored passages in the Outland and Fenomeno caves, collecting a total of three hours of video footage. Sections of this video will be presented to INAH (Mexican Institute for Archeology and History) and will be used as input for GUE Baseline Project in Mexico. Additional footage will be submitted to the QRSS video archive.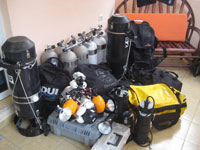 GUE and Halcyon sponsored the team by providing two HMI lights, which produced incredibly powerful lighting that helped the divers document large passages in the caves. The lights also enabled a very clear video shoot at 0 db.
Documentation is an essential part of the exploration effort, as photos and video footage establish a baseline record of the caves in their pristine state. Below please find a video recording of the traverse from Fenomeno Cenote to White River Cenote. GUE Silver members and above can watch the full 18 minute video
here
.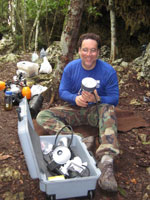 For additional images and documentary material from the project, please visit:
www.baue.org/images/galleries/v/PET/project/
.