2009 Point Lobos Science Camp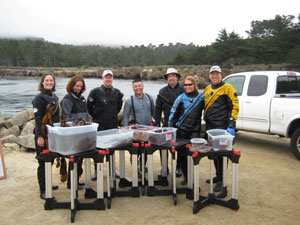 The 2009 Point Lobos Science Camp was a great success!
Ranger Chuck and Point Lobos State Park hosted a 3-day interactive event at Whalers Cove, for Carmel Middle School students. The event included a presentation by the Lifeguards, two marine-life exhibits, and a geology tour of the park. More than ninety 7th graders attended the camp, and they were instructed to keep a journal and to answer quiz questions on what they learned during their activities.
BAUE divers volunteered to collect specimens, display, and do presentations about invertebrate marine life found in Whalers Cove. The marine life was returned to the ocean immediately after the presentations.
Photos from the event can be found here:
www.baue.org/images/galleries/v/events/Science+Camp/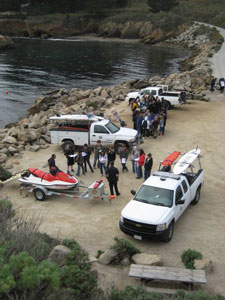 We'd like to thank all of those who were able to lend a hand for this activity, including: Rob & Allison Lee, Beto Nava, Clinton Bauder, Matt Vieta, Leah Wadler, Ildiko Frank, Ben Villao, John Kastaudas, Kevin Dow, and Cynthia Madden.
We'd also like to thank Ranger Chuck Bancroft for inviting BAUE to participate in this community service event! It was fun and educational for us, as well as for the Carmel Middle School students. We hope to be invited to assist in the science camp next year.
As always we are appreciative to Point Lobos and the fabulous marine life that inhabits the reserve.
Susan Bird & BAUE Directors