GUE Instructor resumé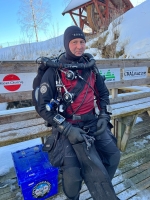 Classes I teach:
GUE Fundamentals
Doubles Diver
Drysuit Diver
View Scheduled Classes
Diving Experience
Exploration and wreck diving with focus on the Mediterranean, the Baltic Sea, the English Channel and the Black Sea.
Community Involvement
Special interests
Good wine and food, travel.
Languages
English, Swedish or Russian for teaching but also French.
Additional Info

Love sharing my experiences and teaching. Ready to travel anywhere to dive and teach.