GUE Instructor resumé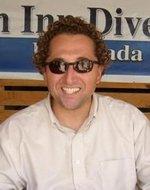 Classes I teach:
View Scheduled Classes
Hassan Adly
Phone:
+61 4 2393 1138 (Australia)
Mobile phone:
+201222211528 (Egypt)
Email:
hassan@gue.com
Professional
Australian Army, 2013 - present
RMIT University, Researcher & demonstrator, 2013-present
GUE, Recreational & Tech Instructor, 2006 - present
Marlin Inn Dive Center, Director, 1999 - 2006
Croatian Army, 109. brigade, 1991 - 1992
Education
2015 BSc Applied Sciences (Honours), Environmental science, RMIT University, Australia (in progess)
2014 BSc Applied Sciences, Major: Environmental science, RMIT University, Australia
1999 BA Journalism, Moscow State University, Russia
Diving Qualifications
GUE Instructor Fundamentals, DPV-1, Rec 1-2-3, Tech-1
GUE Tech 2+ Diver (2006)
GUE Cave 1 Diver (2007, 2010)
PADI MSDT (2004)
EFRI EFR Instructor Primary & Secondary care, AED (2004)
TDI Advanced Trimix Diver (2003)
TDI Advanced Wreck Diver (2003)
Diving Experience
Diving since 1986, and diving professionally since 1991. Diving and teaching divers full-time from 1999-2010.
Many thousands of dives and hundreds of staged decompression dives including the use of mixed gasses and DPVs. Explored many of the deep shipwrecks found in the Red Sea.
Current projects include the exploration of a deep coral cave in the Red Sea. Latest diving-related passion: Mexico cave diving.
Dived in Egypt, Australia, France, Lithuania, Poland, Croatia, Malta, Austria, Netherlands, Mexico, New Zealand
Community Involvement
RSDASS (Red Sea Diving Association), Diving professional member
HEPCA (Hurghada Environmental Protection & Conservation Agency), supporting activist
GUE, silver member
Special interests
Technical diving (open water, wreck & cave)
Environment
Science
Aviation & modern military history
News & mass media
Fitness & health
Languages
English
Russian
German
Arabic
Croatian
Additional Info

Currently on sustaining status with GUE, planning to re-activate in the near future!