GUE Instructor resumé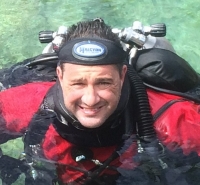 Classes I teach:
Discover Diving
Recreational Supervised Diver
Recreational Diver 1 - Nitrox
GUE Fundamentals
Doubles Diver
Drysuit Diver
DPV Diver 1
View Scheduled Classes
Professional
Chief Executive Officer & President - Keith and Schnars, P.A. - present, Top 5 FLA Engineering Firm
CEO Technical Diving Solutions - present - Exploration, Education, Film & Triathlon Coaching
Triathlon Coach - www.lifesportcoaching.com
CEO - EK Real Estate
Serve on Various Boards
Licenses: Building Contractor, Attorney, Real Estate Broker, USA Triathlon Coach
Education
1991 B.S. Construction Management, University of Florida
1994 J.D. Nova Southeastern University Law
Diving Qualifications
Current GUE, IANTD, SSI & TDI Instructor
Formerly GUE Technical Instructor through Rebreather
Technical Diving/Trimix Instructor & Trainer for IANTD & TDI
Formerly PADI Master Scuba Instructor, NAUI Instructor
Formerly Drager and Halcyon Rebreather Instructor
Cave, DPV, etc.
Diving Experience
4000+ dives
1500+ trimix dives
1000+ dpv
700+ cave
Hundreds of hours on semi-closed rebreathers
Artic Circle, Scandavian Mines, Wrecks, Reef, Caves (fresh & blue hole)
Community Involvement
Special interests
Competative Ironman Triathlete
Member - Explorer's Club
Film Projects: Have worked for IMAX, BBC, Discovery, National Geographic, VISA, etc.
Wrecks!
Publications
Authored or contributed to numerous magazine articles, training manuals, etc.
Additional Info

SUEX Dealer