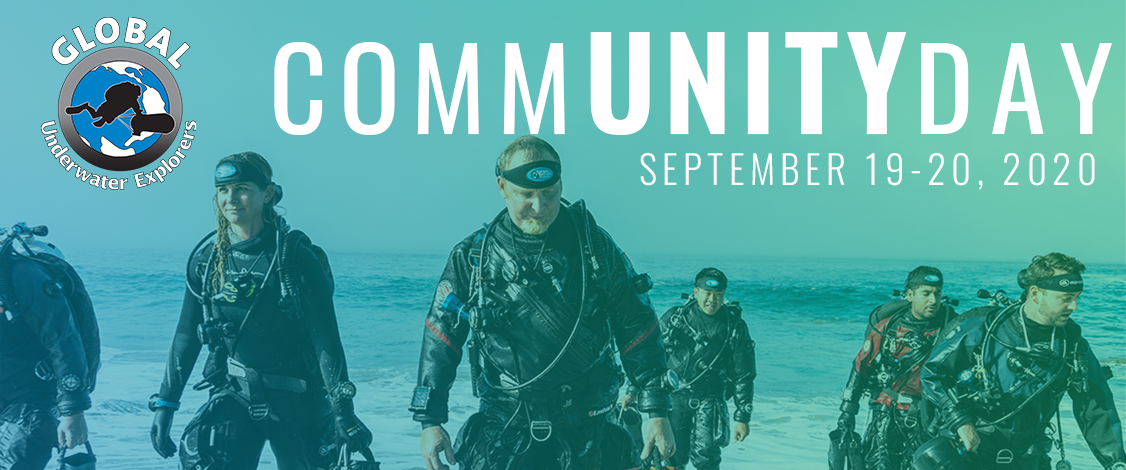 For the first time ever, GUE communities around the world will gather together on the same weekend to celebrate our love for diving. It doesn't matter where you're located or what time zone you are in, you will feel part of the worldwide GUE community. Diving has the power to unite us all. This year has been a year filled with stress and challenges, and we want to bring a bit of joy to our community of passionate scuba divers around the world.
We encourage each GUE community to host a dive day or community event (COVID responsible, please) where they photograph and vlog their day above and below the water. ALL divers are invited to join us! We will be doing a live stream from GUE HQ on Saturday the 19th to showcase some of the communities participating, host a Q&A, discuss relevant topics, and make a few announcements. Join us on Facebook or YouTube. We will be sharing the events all weekend on our page for everyone to follow along.
How To Participate as a community:
Host an event, or dive with your local community (please follow your local guidelines and be COVID responsible).
Share your team's photos using the hashtag #GUEUnityDay2020 and/or tagging @GUEhq on Facebook and Instagram.
Participate in the live stream by logging in with your team from your event. Make sure to register for a spot in the live stream in advance.
Submit your team's dive report online.
How to participate as a brand, dive center, or project:
Attend the live stream and give a presentation on a product, service, or subject.
Encourage your audience/customers to participate in an event near them
Host an event
Live Stream Schedule
*This schedule is subject to change

Session 1: 6:00 AM GMT
6:00 AM GMT Welcome by President Jarrod Jablonski
6:05 AM GMT Community Update by Marcus Rose
6:10 AM GMT GUE Communities join us
GUE Australia
GUE UAE
GUE Lebanon
GUE Beijing
6:20 AM GMT DAN Research Update by Frauke Tillmans
6:30 AM GMT Young Divers International by Rob Thomas
6:40 AM GMT GUE NextGen Scholar Update by Annika Andresen
6:45 AM GMT Dr. Simon Mitchell on his current research
6:55 AM GMT GUE Singapore
6:56 AM GMT GUE Netherlands
6:57 AM GMT Q&A with Vice President Dorota Czerny
7:00 AM GMT Closing with President Jarrod Jablonski

Session 2: 12:00 PM GMT
12:00 PM GMT Welcome by President Jarrod Jablonski
12:05 PM GMT Community Update by Marcus Rose
12:10 PM GMT GUE Communities Join Us
Scapa Flow Team 1
Scapa Flow Team 2
GUE Sweden Clean-Up
Sharm El Sheikh Divers, Egypt
12:25 PM GMT Florida Diving by Meredith Tanguay
12:35 PM GMT Building Your Dive Team by Gareth Lock, The Human Diver
12:45 PM GMT Q & A with President Jarrod Jablonski
12:50 PM GMT Update on the Sardinia Project by Andrea Marassich
1:00 PM GMT GUE Poland and Baltic Sea Diving
1:02 PM GMT Florida Cave Projects Update by Kirill Egorov
1:06 PM GMT Closing by Jarrod Jablonski

Session 3: 4:00 PM GMT Saturday
4:00 PM GMT Welcome by President Jarrod Jablonski
4:02 PM GMT Community Update by Marcus Rose
4:05 PM GMT What is KelpTree by Mike Nelson
4:10 PM GMT GUE Communities Join Us
Extreme Exposure
GUE Hungary
GUE GUE Ontario
GUE Singapore
4:20 PM GMT Diving into InDepth by Michael Menduno
4:30 PM GMT Meet GUE Sweden
4:35 PM GMT Join Orange County Underwater Explorers
4:40 PM GMT Seattle Photogrammetry Project by Kees Beemster Leverenz
4:50 PM GMT Quarry Tour with Meredith Tanguay
5:00 PM GMT Thank You from Halcyon Dive Systems
5:03 PM GMT Q&A with President Jarrod Jablonski and Vice President Dorota Czerny
5:08 PM GMT Closing with Jarrod Jablonski