Annika Persson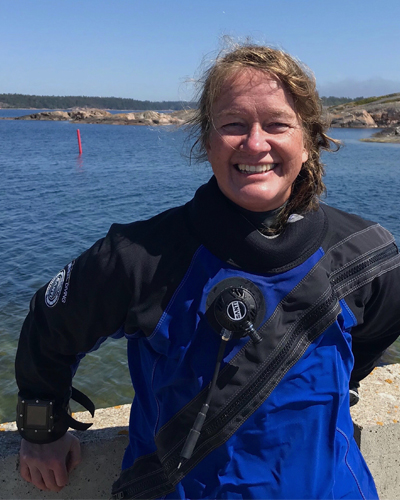 Annika Persson has been actively diving since 1994 and has been a GUE diver since 2008. She enjoys the underwater environment because regardless of where you go, there will always be something new to see and to explore. Annika is as happy diving around in the shallow waters looking for macro photos, as she is searching with fascination for sharks and other marine life. She is keen on exploring deeper wrecks, caves, and mines. She is an active GUE Tech 2 and Cave 2 diver and is a GUE instructor, teaching classes from beginners to Tech 1. She is also a GUE Instructor Trainer, developing instructors within the GUE organization. Her motivation for being an instructor is that she would like for others to enjoy the underwater environment as much as she does.

Derk Remmers
Derk Remmers is a GUE Instructor Trainer with more than 30 years of diving experience. Technical diving and wreck diving are his passions, especially in challenging northern European conditions. For more than ten years, he has supported a hyperbaric facility as an operator and technician for emergency treatments and education of medical personnel.

David Rhea
David Rhea is a GUE Instructor Evaluator and has taught for the agency for nearly 20 years. He is a passionate photographer who has contributed to Quest and other magazines. David has participated in a number of GUE exploration projects around the world, including Mexico, China, Norway, Italy, Bimini, and Florida. He is employed by ScubaPro as its Florida Business Development Manager and resides with his family in Tennessee.